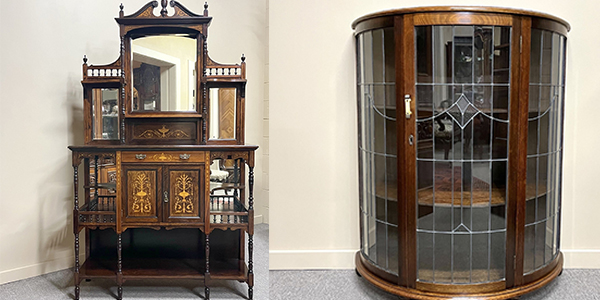 When it comes to creating a stylish yet functional home library, antique oak bookcases can offer great versatility. These timeless pieces not only offer ample storage space for your beloved books but also add an elegant touch to any room. With their durability, classic design, and ability to age gracefully, oak bookcases have remained a popular choice among homeowners and collectors for centuries.
Why Oak Bookcases Are So Popular
When it comes to making furniture, it's all about the density of the wood. The denser it is, the stiffer and stronger the final product. This is what makes oak one of the most versatile materials for bookshelves. Here are some more reasons:
Oak is a widely available hardwood that can be found in many parts of the world. Its tall trees yield a higher timber volume, which makes oak more readily accessible in various lengths, grades, and amounts. Its unusual length allows a shelf's construction to be unbroken, resulting in neat and sturdy lines that symbolise exceptional quality.
Known for its strength and resilience, oak is renowned for its ability to withstand the test of time. Oak beams are often used in building construction as they can support heavy loads and resist bending or breaking over time. It is also a popular choice for flooring because it is hard and can withstand heavy foot traffic. If you are planning to buy antique bookcases for your home, consider a French oak bookcase or a 19th-century English bookcase as they are quiet.
Not only is oak durable, it's longevity makes it preferable when it comes to antique bookcases. It also makes it an excellent investment that need not be replaced time and time again. Oakwood ages gracefully and develops a patina over time. This is easy to observe in 19th-century English oak bookcases, whose surfaces reveal a discernible sheen when maintained by the owner.
Antique bookcases are often handcrafted with meticulous attention to detail. The use of traditional joinery techniques and high-quality materials ensures greater durability and longevity.
Historical Value
Oak bookcases carry a sense of history and heritage, connecting you to the craftsmanship and design sensibilities of past eras. When you choose to buy an antique bookcase made of oakwood, you can cherish it as a piece of history whilst infusing your own sentimental value to pass it down to future generations.
The reason why French oak bookcases are still so widely preferred is due to their classic design. Characterised by intricate carvings, fluted feet, and an impressive scale, these shelves continue to blend into modern homes as statement pieces with tons of divided spaces.
An oakwood bookcase can be designed with prime, joinery, or character grading, each having a distinct look and texture. The end result can be as subtle or knotted as you prefer. Its unique grain patterns and warm tones can complement a range of décor styles and colour palettes, making it a timeless choice for storing books and other items on display.
At Nostalgia Antiques, every piece of furniture is nurtured with extreme love and care before we find it a new home. Our collection of antique bookcases for sale includes rare items, from 19th-century French Mahogany to an English Edwardian Walnut. Contact us on 03 9480 3745 or 0411 136 816 to explore our range of antique oak bookcases. Not only are they creative storage solutions but also serve as stunning statement pieces in your home.